It´s been awhile since I last posted here, because I´m doing a small business online. When I opened my account this morning, the first things I did was to checked who have visited me and one of those visitors was Umma my co-blogger friend and she invited me to join her first ever contest in celebration of her 6th wedding anniversary next month. And if this contest will "
CLICK
" she planned to do it monthly, isn´t amazing? I thought this is very interesting contest, this is my second time to joined a contest through online, since I was unlucky the first time, why not give a try this time. Who knows I could be the future owning of this
$300 worth brand new coach satchel bag (refer to the photo below)
, or maybe it could be
YOU
! So what you waiting for? visit
Mom Conversations
blog and and
JOIN
the contest, and get the chance to win fabulous prizes.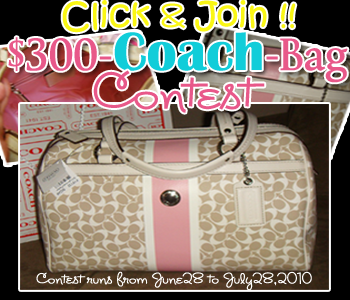 The contest started last June 28, 2010 and will end on July 28, 2010